Are you a content writer? Or do you have a blog? It's not easy being content writers. So many things happen behind-the-scenes. Starting from visualizing the idea, creating a draft to completing a perfect article. But sometimes that's not it, we require a proofreader for a blog post.
Usually, people wonder if a blog post is very well informed, researched and presented, there might be a whole team working behind it. And that's true for big companies and websites. They have a content planner, researcher, assistant writer, content writer, graphic designer, proofreader and lot more.
Frankly, it's not possible for a single blogger or new blogger, who wants his website to be heard and reach to its audience to fulfill his goals, to do all things together and alone.
That does not mean you can write whatever and just hit publish and let people decode what you're trying to say. As an individual starting a new blog or small team selling a product, you need to do it in the right way:
Create a content strategy
Plan that content.
Do well research on that piece of article.
Get it proofread by a tool.
Publish
A lot of your content writing work can be done through a tool, which is both free and paid.
If you have heard about Grammarly, than yes this is what I'm talking about. You're only tool as a proofreader for your blog.

Importance of a Proofreader
Content writing needs a lot of research and time. So errors in terms of punctuation, spellings, etc. are common things while writing. Mainly, true when you have to meet your deadlines, you can't just publish a post with tones of error in it.
It's essential for your readers to understand what you want to convey in a clean, error-free way. A Proofreader is the one who ensures the content is well written and there is no grammatic error (typographical, spelling, punctuation, syntax, formatting, etc.)
We all spend time creating unique and informative content for our audience. But we hardly give time on proofreading. Google gives priority to articles that are unique and not scrappy.
Difference between Editing and Proofreading
Editing is to improve the quality of your writing, particularly about language use and expressions. After editing, your language will be consistent, your speech will be clear, and the overall readability of your content is enhanced. Editing makes sure that your writing gives the impression that the English language comes naturally to you.
Proofreading, on the other hand, has fewer goals than editing, and therefore, it is a cost-effective service, but it performs a vital role in SEO. Proofreading is the process of correcting errors in writing, such as grammatical, spelling, punctuation, and other language mistakes.
What to do when you don't have a proofreader for your blog post? It is not difficult as we have these proofreading tools in handy. I use them every day to write an error-free content then why don't you.
How to Write An Error Free Content?
Before you require a proofreader for your blog to proofread it. But now as the internet is rapidly evolving you there are so many complications and solutions. All forms of writing need to be proofread before publishing. So, rather spending thousands of bucks on proofreaders you can use a free tool called Grammarly.
Many of you must have already heard of this tool, one of the most popular and standard app for writers and bloggers. Grammarly is a free and real-time spelling and grammar checking tool, which helps you to enhances your writing skills.
It is a quick and smart tool that analyzes every sentence of your article, recognizes the errors, and suggests a correction.
Although the name might give the impression that the tool used as a grammar checking tool, it does a lot more than that. Besides grammar, it takes care of words that might unintentionally repeat or the use of homonyms, jargon, and so on.
Using Grammarly For Error-Free Content
Using Grammarly you can get a great piece of error-free and highly unique Content. When I had started using it, I found it so easy to use and instantly fell in love with it.
Here is how you can also use this tool:
First, you'll have a paid and free version of it. Paid vision has all the feature whereas free has few features. Sign up to get a discount on Grammarly.

You can also add Grammarly's extensions for Mac and Chrome.
The next thing you need to do is personalize your app. You can also skip this option too. I had set my options for other projects, as I mostly use for drafting the writing assignments which I send my clients. You can also set it up for office or academic projects depending upon your requirements.
How does the Grammarly tool work?
Grammarly works by pointing out all the mistakes that you make in your drafts. It will check all your errors in real-time and suggest a correction.  It does this for every document that you draft on your computer when you are online. Be it an email or a social media post or any other text on the website.
Grammarly does not support Google Docs. But it also offers you the option of copy-pasting your document content or uploading it to check in real-time.
Another thing that I have noticed while using this app is that it suggests synonyms that you can swap with the words. Which you sometimes feel like using it in your Content. It also checks for double spaces between words and wrong punctuation.
But I would tell you that sometimes it also makes mistakes too. Although Grammarly's suggestions are helpful, it is always better if you know when to use its word suggestions and when to ignore them.
You may sometimes have to use the passive voice in your blog. But the app keeps on pointing out how wrong you are because you are not using active voice. And is probably because it wants writers to use more direct and explicit languages.
So, I think you can take out the best out of Grammarly tool only when you know which suggestions you need to ignore.
Grammarly Pricing
There is a free version of Grammarly which you can add to your browser edition. Also if you want more features, you have to pay some dollars to get it. The paid Premium edition of Grammarly will cost you $29.95 per month, which costs $59.95 if paid quarterly, or it costs $139.95 if paid yearly.
You can use the free version, as it offers more than you will require. I use the premium version, and it's great if you want to write some great error-free content for your readers without any plagiarism.

If you are looking for tools that create error-free and quality content to grow your business, here is a list of a few other tools.
Grammarly App – An Overview on the most used Grammar Assistant
1. After the Deadline
This tool is an online platform that comes from the same people who built the WordPress. It uses spellchecking, reducing your chances of making errors and mistakes as well. It also corrects style errors and provides you features that easily integrate with WordPress content and platform.
2. Ninja Essays
Ninja Essays hires quality ninja-like writers and also provides services like online content writing and content editing. Since they hire only the highly professional crowd, the quality of their work is excellent and impeccable. Unlike other platforms, the human touch here which helps you to determine conceptual errors and mistakes, confusing sentence, and unclear agendas.
3. PaperGear
This tool is a craze among startups and entrepreneurs. It is a paid platform; it helps you when there is a bulk of Content to proofread daily. They customize their services based on the style and the nature of the Content need by the client.
4. PaperRater
PaperRater is a free online tool used by freelancers, bloggers, and students to get the Content to proofread, edit, or spellcheck. It also checks for content plagiarism. This plagiarism checker responds immediately and is one of the most non-paid tools.
5. Polishmywriting
Polishmywriting is one of my favorite tools to proofread articles online. It takes out the error in three different colors. A red for the spelling error, Blue for style suggestion and Green for grammatical error.
The active and passive voice suggestions are what I like the most which this tool provides. Also, it gives you the results quickly and efficiently, which is another useful feature.
6. Ginger
Ginger is another proofreading tool I  like. It works almost the same as Polishmywriting, but take care of your article errors like using the articles. Polishmywriting does not give you suggestions for items like a, an, the, have, has, etc.
So, if you are not good enough in such kinds of errors, then you must go for the Ginger Proofreading tool. There is also an extension for the Ginger proofreading tool available so that you can proofread your blogs, articles, and document quickly.
7. Google Docs
Google Docs is in the top free online proofreading tools list. It's not only free, but Google Docs also provides excellent features like to edit your writing at the same time. You can include Add-ons such as Thesaurus, Lucidchart diagrams, Template gallery, and so on. It also makes your editing process more comfortable at the time of writing.
You can also save the files even when you are offline when the connection is lost, or you can write without having an Internet connection. Google Docs is the perfect proofreading tool and printing solution for writers who are into blog writing, copywriting, etc.
Here are some features of using Google Docs for editing.
Offers 15GB of free space to all the Gmail users
By using this, you can keep and save almost any file
You can share how you want
It is safe and secure
8. Proof Guru
Proof Guru is a free proofreading tool that also provides several packaged style guides and checklist relevant to different kinds of Content. You can use the packaged list or create your custom style guides and checklist to improve your proofreading Fast.
This tool checks your spelling and automatically suggests edits to your documents. Proof Guru consists of two parts one is the Proof Guru website and the other Proof Guru Checker.
You can use both and the Proof Guru website to maintain your subscription, checklists, and standards. Proof Guru Checker is a free Windows app that works in Microsoft Word to check your Word documents.
9. Language Tool
LanguageTool is an Open Source proofreading tool for English, French, German, and more than 20 other languages.
This proofreading tool finds many grammatical errors and mistakes that a simple spell checker like Microsoft Word can't detect and which enables you to write flawless content. If you're using the LibreOffice add-on, you can make use of this free proofreading tool "Language Tool."
10. Slick Write
You are not in a hurry and if you want to analyze your writing in detail, then you must check out this tool Slick Write. Slick Write not only points your errors. It also gives you a review of your book, which lists phrases, uncommon words, adverbs, passive words, prepositions, and much more.
Sometimes, I keep track of how my writing is improving with Slick Write. It's an excellent way to know your progress in the quality of your writing.
Writing Content is a mammoth task for all businesses that need to come up with interesting topics every day. Very Often, editing takes a back seat when the focus restricted to Content. However, poor Content is not received well by the readers.
Result of this, your Content needs to be flawless if you want to leave your readers with an everlasting impression, and for this, editing is an absolute must.

Here are a few things that I keep in mind while I am proofreading my article:
Take a break before proofreading your blog post or article you finished.
You can select a quiet place to proofread your blog or article so that you don't lose your concentration.
Read Aloud. This way, you can quickly figure out what's wrong with your sentence structure.
Edit the Content as soon as you find any error in it; don't wait until you read the whole document.
Hire a proofreader for your blog or use a paid proofreading tool.
Always make sure to re-read your articles or blogs before publishing.
Ask your friends to find out the mistakes on your Content easily. Or hire an editor to make corrections quickly.
Write in small paragraphs so you can quickly figure out where you are making grammar mistakes. Also, Make use of short sentences if you want to hone your writing skills.
Conclusion
So next time if you are thinking to write flawless content without any grammatical errors and you want to impress your blog readers with your writing skills, make sure to use Grammarly as a proofreader for your blog.
No matter what type of tool or proofreader you use for your blog, 'there's always one defect. Almost none of the tools rectifies your grammatical mistakes with 100% accuracy, with 'today's technology. So 'don't get disappointed, make sure to read better stuff and keep on writing each every single day to hone your writing skills.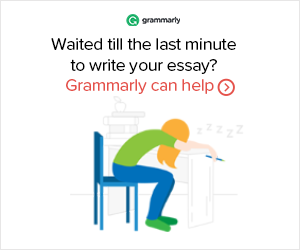 Other articles:
Make sure you follow us on Facebook, Instagram, Twitter, Pinterest, and LinkedIn, and Subscribe to our email list, to stay updated with stats, trends, and tips.
(This post may contain(s) affiliate links. That means I do get compensated every time someone buys from these links at no cost to you. See disclosure here.)